Coco Spa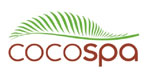 CocoSpa @ Club Bentota is located by the river surrounded by coconut trees and lush vegetation. The spa has one room for couples who wish to indulge in a treatment together; two single rooms and a verandah for manicure/pedicure complete the space with a lounge for relaxation.
CocoSpa is committed to giving you an exceptional spa experience to surpass your expectations
CocoSpa has developed a comprehensive selection of spa treatments using nature's gifts only: exotic essential oils, fragrances, spices, herbs, flowers, and fruits.
We use our own line of blended pure massage oils and genuine herbal cosmetics made from the finest natural ingredients found in Sri Lanka.
CocoSpa offers a complete range of spa services: massage therapies, body treatments, facials and nail care.
Our honest and professional therapists from Bali have all the attributes of a highly successful team: enthusiasm, expertise and the passion to make a difference.
"We assure you a relaxing, rejuvenating, enjoyable and memorable experience"
www.coco-spa.com
❮
❯